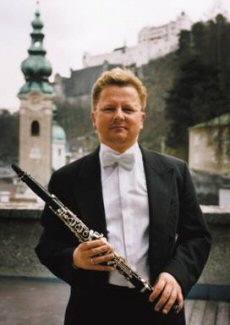 Wenzel Fuchs
Clarinet

Wenzel Fuchs was born in Innsbruck (Tirol) Austria. He began his study of the clarinet at the Innsbruck Conservatory with Professor Walter Kefer, studied later at the Vienna Music Academie with Professor Peter Schmiedl, and graduated with honors.

Fuchs is a prizewinner from the Ministry of Science and Arts as well as the competition "Jugend Musiziert."

While still a student, he performed with all Viennese Orchestras, including the Vienna State Opera and Vienna Philharmonic Orchestra. At the age of 19 he performed as solo clarinet with the Vienna Volksoper. Five years later he performed as solo clarinet in the Vienna Radio Symphony Orchestra.

Since 1993 he has been a solo clarinet at the Berlin Philharmonic Orchestra. He is also an instructor at the Orchestra Academie of the Berlin Philharmonic.

Fuchs has been a guest professor at the Sakuyo University of music in Okayama, Japan, and has participated in master classes in Japan, Europe and the USA. He also has performed as a soloist with the Berlin Philharmonic as well as other Orchestras.

Fuchs is a member of the Berlin Philharmonic Wind Soloists (Woodwind Quintet), Berlin Philharmonic Wind Octet and Metropolis Ensemble, and a member of the Super World Orchestra, Japan.